OK, I know everyone is sick of these by now. But, it's Sunday night, tomorrow is back-to-work and seriousness for Dav, I want that streampad widget you see on the right side-bar to be well populated and it's
my blog
so I do

whatever I want

.
There.


Barzin - Let's Go Driving the opening track from My Life in Rooms
A great album of slow-paced, dreamy songs from this Toronto artist.

Kimya Dawson - Underground from Remember That I Love You
Kimya came back this year with another nice collection of lo-fi melodies and witty lyrics. Pretty good.

Beirut - Mount Wroclai (Idle Days) from Gulag Okestar
Probably my favorite album this year. Deservedly the darlings of the indie blogosphere. Check out the review of their Pop Montreal concert, written by my sweetie.

Calexico - All Systems Red from Garden Ruin

I miss their usually more mariachi infused sound, but this a very solid rock album.
EPO-555 - Maid in China from Mafia
Let me win back some of my indie cred by pimping this (more obscure) band from Denmark. Flaming Lips fans should like this.

The Appleseed Cast - Mountain Halo from Peregrine
More great inventive shoegazey indie rock from these ex-emoers.

Tokyo Police Club - Nature of the Experiment from their debut EP A Lesson in Crime
Very promising debut by these Toronto kids. If you like the Strokes, Franz Ferdinand, etc.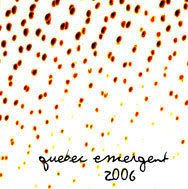 The Hot Springs - The Fog and The Horn from the Québec Émergent comp
I don't think The Hot Springs have an album out yet, but they're hyped as the next big thing out of Montreal. This girl here might be the next indie rock superstar.

Ratatat - Wildcat from Classics
This duo fuses synthetic beats with guitar riffs (and panther roars) for a very unique sound.

Booka Shade - Darko from Movements
One of the few electro albums i truly enjoyed in 2006.


Ellen Allien & Apparat - Do Not Break from Orchestra of Bubbles
More German electro-goodness resulting from this collaboration. They held a contest to pick the video for one of their songs. Beautiful results.

Mouse on Mars - Chartnok from Varcharz


Warning

- this one isn't for everyone... a delicious brainf*ck. MoM are the grandaddies of German IDM. Their recent set at Salla Rossa are the 2nd time I actually busted a move in 2006. 1st time was the Sharon Jones' 50th Birthday Part in NYC.

Alias & Tarsier - Dr. C from their coast-to-coast collaborative effort BrooklandOaklyn
Reminds me of the good days of trip-hop.


Zuchini Drive - Sombre City from Being Kurtwood
Electro-hip-hop by a Belgian and a Sweden. Markus Acher (of the fantastic German band The Notwist) appears on this track, perhaps the most European one ever recorded.

Fat Jon & Styrofoam - Runnin' Circle from The Same Channel
Again, a great electro-hip-hop collaboration. US-Belgium. Go globalization.

Keny Arkana - Mère des enfants perdus from Entre ciment et belle étoile
Alright, I don't know much about hip-hop. Clipse, The Game, Nas, all great albums, but the one hip-hop record that

really

kicked my ass this year is the debut by a young, angry, immigrée Marseillaise. Very angry.

Asobi Seksu - New Years from Citrus
Let's end with a few

louder

picks. Asobi Seksu in a NYC shoegaze band fronted by a tiny Japanese girl. Great live show.

The Thermals - A Pillar of Salt from The Body, The Blood, The Machine
Very dynamic and gritty post-punk from Portland, OR.

Priestess - Talk to Her from Hello Master
Heavy arena rock band from Montreal. Long hair, old-fashioned riffs. I wish I could play in a garage band.


Mogwai - Travel Is Dangerous
from
Mr. Beast
These Glasgow post-rockers are long-time favorites of mine and this album didn't disappoint. Loud but melodic.
Triple Burner - Bride of Bad Attitude
from their
self-titled debut
Allow me to finish with this local act that I've particularly enjoyed seeing live a few times in the last 2 or 3 years. Triple Burner are Harris Newman (wonderful guitarist) and Bruce Cawdron (percussions). Hypnotic.

Alright, that's enough.
I'm going to bed.
Happy New Music Year everyone !